Colorbond® | Zincalume | Galvanised
Wall Cladding Only
SPECIFICATIONS
Cover - 825mm
Single Span - 800mm
End Span 900mm
Internal Span - 1200mm
Steel Fixing - 10x16 Hex
Timber Fixing - 12x25 Hex
INSTALLATION
G.P Panel sheets overlap each other and are fixed continuously along the building in the opposite direction to the prevailing weather.
This ensures weather protection and a fast and efficient method of installation.

Horizontal Ribs - The edge laps must face downwards with the over edge on top as shown. If end laps are necessary on long runs, allow 75mm per lap. End laps should be sealed with a suitable sealant.

Vertical Ribs - Start at the end of the wall which is away from the prevailing weather. The over-edge should be as shown.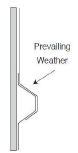 Trading Hours:
Mon - 7:30am to 4:45pm
Tue - 7:30am to 4:45pm
Wed - 7:30am to 4:45pm
Thu - 7:30am to 4:45pm
Fri - 7:30am to 4:45pm
Sat - closed
Sun - closed
Keep your project on schedule.
Get started today.